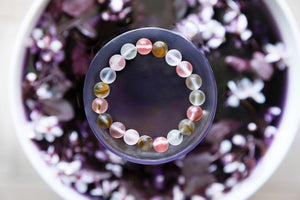 I made this design a couple of months ago. I was struggling and crawling out of a hard time. I realized how grateful I am for clarity, those moments where it all makes sense.
I wish these moments for you. Where all the noise softens and y'all feel CLEAR.
The Clarity is available in SM, MED, LRG & XL sizes. The approximate circumference of the bracelet for each size is as follows:

SM = 6.5"
MD = 7"
LRG = 7.5"
XL = 8"